ToughtorqTM PL5 Centralizing Couplings
ToughTorqTM PL5 Centralizing Coupling has been designed specifically for the use of high torque rod applications such as HD sucker rods, Alberta Oil Tool Drive Rods, and Weatherford T66/XD.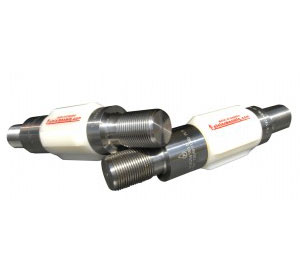 Spin-through couplings reduce operating costs of progressing cavity pumped wells.
The PL5 centralizer reduces rod and tubing wear and work over frequency to lift costs and maintenance.
PL5 Centralizers are field replaceable and available with high temperature rotor materials rated to 218°C.
At Plainsman, we manufacture and distribute products for pipeline maintenance, oilfield production, automated emergency shut down, construction and gas and water distribution. Our in-house engineering department and full-service manufacturing facility make it possible for us to meet the demands of our customer and industry needs.
Learn More about Toughtorq PL5 Centralizing Couplings
Features of the ToughtorqTM PL5 Centralizing Coupling
The centralizing couplings usually consist of a sacrificial rotor mounted on a mandrel between two shoulders. The sacrificial rotor prevents tubing wear. The mandrel will wear through the rotor before wearing through the tubing wall.
Features of the ToughtorqTM:
High torque capabilities
Available with abrasion resistant hard coating for severe service conditions
Slim hole diameter maximizes flow path and protects tubing wall
Pin by Pin construction
Proprietary design maximizes contact strength and improves rotor retention
Proprietary HTSR alloy steel components
Formed (cold rolled) box and pin threads, not cut, conforming to API 11B
Full material trace-ability stamping
Manufactured to precisely engineered standards in ISO 9001 facility
Field replaceable standard (104 °C) and high temperature (218 °C) rotors
Proprietary blend of rotor materials provides maximum lubricity and wear life
Available with or without coupling(s)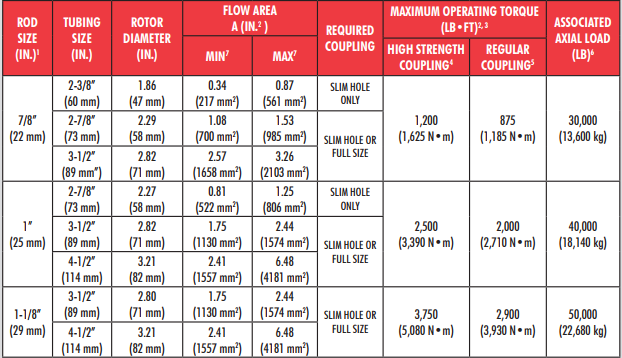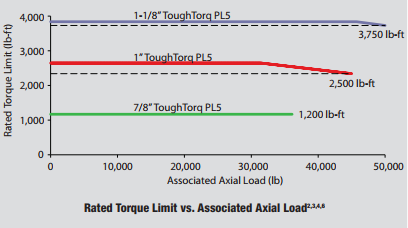 The Maximum operating torque is subject to these conditions:
Do not exceed sucker rod manufacture's operating torque guidelines
All values based on coupling contact areas:

7/8" ToughTorq Pl5 Contact Area = 0.573 in2 (370 mm2 ) or greater
1" ToughTorq PL5 Contacy Area = 1.120 in2 (723 mm2) or greater
1-1/8" ToughTorq PL5 Contact Area = 1.451 in2 (936 mm2 ) or greater

Connections to be made-up as per Plainsman's Tough Torq PL5 make-up procedure PB-CPLR06
Use a 0.8 service factor to maximize fatigue
High strength coupling with 105 ksi (724 MPa) minimum yield strength in like new condition
Regular coupling with 80 ksi (552 MPa) minimum yield strength in like new condition
Associated axial load may be exceeded at lesser operating torques
Minimum and maximum flow areas based on heaviest and lightest API 5CT tubing that the centralizer rotor will fit
Speak to an expert about the ToughTorqTM PL5 Centralizing Coupling
How to Select the Right Coupling
Selecting the right coupling depends on four basic conditions of shaft misalignment or movement:
Angular misalignment– when shafts aren't coaxial or parallel. The misaligned angle of the shafts may be symmetrical or asymmetrical.
Parallel misalignment– when two shafts don't share the same rotation axis, parallel misalignment occurs. When this happens, their end faces may be parallel but their center axes are displaced laterally.
End Float– when both or either shaft moves in and out.
Torsional flexibility– the torsional movement in planes is perpendicular to the shaft axis. The cause of torsional flexibility is when a torsionally flexible coupling absorbs and dampens these movements.
Tips for Maintaining your Coupling
Just like any machine part, couplings won't last if you don't take care of them. Below are some tips to maintain your coupling:
Get the right coupling for your application – Different couplings are designed for different levels of torque, starting load, etc. Make sure you get a coupling that is designed for what you are going to use it for.
Assembling it correctly – A coupling will not last long or perform if it is not assembled correctly. Make sure the axial spacing is correct for your type of coupling. Having your axials too close or too far can compromise your coupling.
Make sure your coupling is lubricated – maintaining the lubrication of your coupling will ensure that it will continue to function well.
Regularly inspect your coupling– inspect your coupling to maximize its efficiency. Check for sufficient lubrication, alignment, signs of wear, and correctly seated keys. Also, make sure the screws are tight and in good condition
When You Should Change Your Coupling
With time, your coupling will start to show wear. Beware of signs of a failing coupling and get a replacement promptly. Below are signs that your coupling is failing:
Abnormal noises such as screeching, squealing or chattering
Excessive wobble or vibration
Broken seals showed by lubricant leakage or contamination
What Causes Coupling Failures?
Even if couplings are maintained and properly designed, coupling failure can happen. Here are some reasons:
Human Error – selecting the improper type and size of coupling, incorrect installation and improper maintenance can all head to coupling failure.
Corrosion– rubber elements are affected by some hydraulic oils and by ozone.
Wear– abrasive wear can occur in all couplings if they are not cleaned regularly.
Fatigue– fatigue occurs gradually and can eventually cause couplings to fail.
Hardware failure– failures of coupling bolt happen when couplings fatigue.
Shaft failure– machine shaft failures can be caused by couplings in applications that have a large offset between shafts.
Why Plainsman
We are dedicated to providing customers with the best possible service. We are constantly looking for new and better products and services to match our customer's needs and the demands of the industry.
Plainsman manufactures and distributes products for oilfield production, pipeline maintenance, construction and gas water distribution.
We carry a wide range of downhole accessories and manufacturing accessories for your projects. We are constantly seeking out new and better products to meet our customer's needs and the changing demands of the industry.