Shear Couplings
Shear Couplings are used to reliably separate the rod string from the bottom hole assembly when the pump seizes, or the rod gets stuck. This prevents the difficult and environmentally unfriendly process of pulling tubing and rods out simultaneously.
Plainsman's shear couplings features include:
Integral square key prevents shear of pins in torsion; it is great for insert, tubing and progressive cavity pumps
Ideal for insert, tubing and progressing cavity pumps
4340 HTSR construction for durability and long life
Refer to the chart below for typical API grade D sucker rod reference information: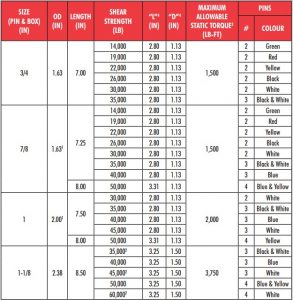 At Plainsman, we manufacture and distribute products for pipeline maintenance, oilfield production, automated emergency shut down, construction and gas, and water distribution. Our in-house engineering department and full-service manufacturing facility make it possible for us to meet the demands of our customer and industry needs.
Learn More about Plainsman Shear Coupling
ToughTorq™ Shear Couplings
ToughTorq™ shear couplings are ideal for PC pump applications in problem wells.
The ToughTorq™ shear couplings have been designed specifically for the use with high torque rod applications such as Weatherford®T66/XD, Alberta Oil Tool Drive Rods®, and HD sucker rods.
It has an increased resistance to fatigue in horizontal and deviated wells. The integral ToughTorq™ key is ideal for reciprocating and rotating rod applications, as well as continuous and conventional sucker rods.
Features:
Improved internal torque transmitting key design
Enhance flexibility
Improved material toughness using a proprietary Ni-Cr-Mo alloy
Reduced stress distribution around shear pins
Improved surface treatment around high stress areas
Ideal for vertical, horizontal and deviated wells
Box-by-box construction
Threads are formed (cold rolled), not cut and conforming to API 11B
Precisely calibrated shear pin values
ISO 9001 ensures full material and manufacturing traceability
Slim hole diameter
The ToughTorq Shear Coupling comes in two coating options to prolong the life of it:

Wiretorq™ Shear Coupling
Wiretorq™ Shear Couplings are ideal for improving PCP performance in problem wells.
The Wiretorq™ shear coupling is an innovative solution to enhance shear coupling's run life in challenging applications such as horizontal PCP wells with some dogleg severity.
This downhole tool improves the overall fatigue life by decoupling bending and torsional forces from the shearing mechanism.
Features:
Increased flexibility in torsional direction should improve fatigue life challenging PCP applications
Integrated torque transmitting key with large bearing surface
Box by Box ends assemble easily with sucker rod
ISO 9001 ensures full material and manufacturing traceability
Threads are formed (cold rolled), not cut to conform to API 11B
Compact design
Patent pending
Why Couplings Fail
Couplings are one of the easiest parts of a pump/motor assembly to overlook but also one of the most important part.
Selecting the wrong coupling– be sure to select a coupling for the appropriate service factor. Plan for issues such as torque conditions in addition to things like misalignment, vibration, heat transfer and maintenance.
Lack of lubrication – Not all couplings need lubrication, but couplings such as gear and grid couplings do. Lubricant levels should be checked 1-2 times a year and periodically flushed to remove any contaminants that might cause premature failure.
Shaft misalignment– this accounts for 50% of rotating equipment damage. Shaft misalignment can be caused by improper installation, bent shafts, and pipe strain.
How to Maintain Your Coupling
Just like any machine part, couplings won't last if you neglect to take care of them. Here are some tips to maintain your coupling:
Inspect your coupling regularly- check for sufficient lubrication, alignment, signs of wear and correctly seated keys. Also, ensure that screws are in good condition and on tight.
Keep coupling lubricated- For your coupling to function well, make sure lubrication is maintained.
Correctly assembling couplings- Make sure the axial spacing is correct for your type of coupling. Having the axial too close or too far can compromise your coupling.
Selecting the right coupling for your application- Make sure you get a coupling that is designed for what you are going to use it for. Different couplings are designed for the different levels of starting load, torque, etc.
When You Should Change Your Coupling
Beware of signs of a failing coupling and get a replacement as soon as possible. Some signs that your coupling is failing are:
Abnormal noises such as chattering, squealing or screeching
Excessive vibration or wobble
Broken seals showed by lubricant leakage or contamination
Plainsman Manufacturing is Your Best Choice for Downhole Accessories
We carry a variety of downhole and manufacturing accessories, including our own manufactured ToughTorq™ shear couplings and PL5™ rod centralizing couplings.
Many of our products are manufactured in our Edmonton facility. We have been locally owned and operated out of Edmonton, Alberta since 1966.
Over the past 50 years, we have built a solid distribution base that includes oilfield supply stores, PC pump suppliers, OEM's, chemical pump and instrumentation companies and utility companies in Western Canada.